DIP Data Assets module enables users to create and organize common business vocabulary which is termed as Critical Data Element (CDE) in the application. The structure of a business vocabulary is in such a way that all the different types of concepts within the business are defined or can be defined according to the business requirement. Data Asset module capacitates to collaborate all the defined critical data elements across different business domains.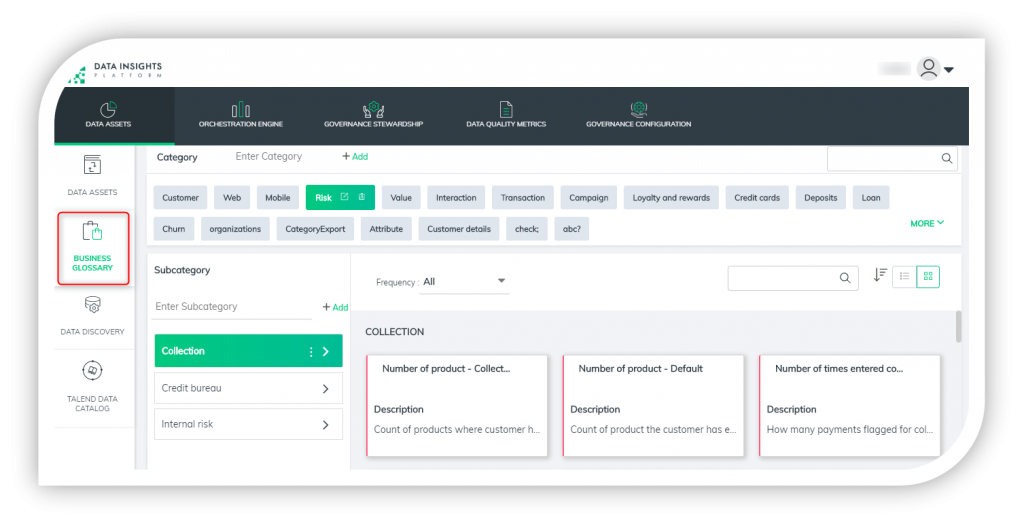 It is a list of defined business terms with their definitions. It defines the business concepts of an organization or the industry and is independent of any specific database. All of this information is synthesized and arranged by the DIP application in a standard format that can be easily searched for and handled and made accessible in the application.
A Data Asset is a customized set of critical data elements (CDE) from the existing Business Glossary critical data elements or can be imported from the local system. Data Assets sub-module allows users to upload, store, manage all the critical data elements (CDE) in one place in the form of digital assets, from one single source. It typically enables users to access data assets anytime, anywhere. Backup and synchronizing are done regularly to ensure all the data is secure and protected.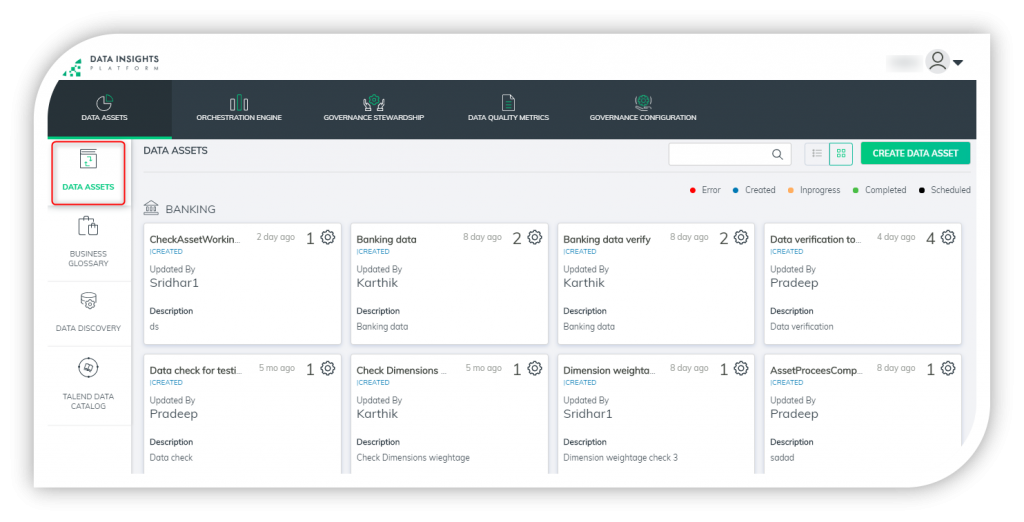 DIP Orchestration Engine coordinates the sequence of configuring the source details, mappings, data quality validation rules, and data quality dimensional weightage. It allows the user to point corresponding data assets to the data source and assigning source columns to their selected CDEs. It also helps the user to define the process flow and determine the dimensional weightage.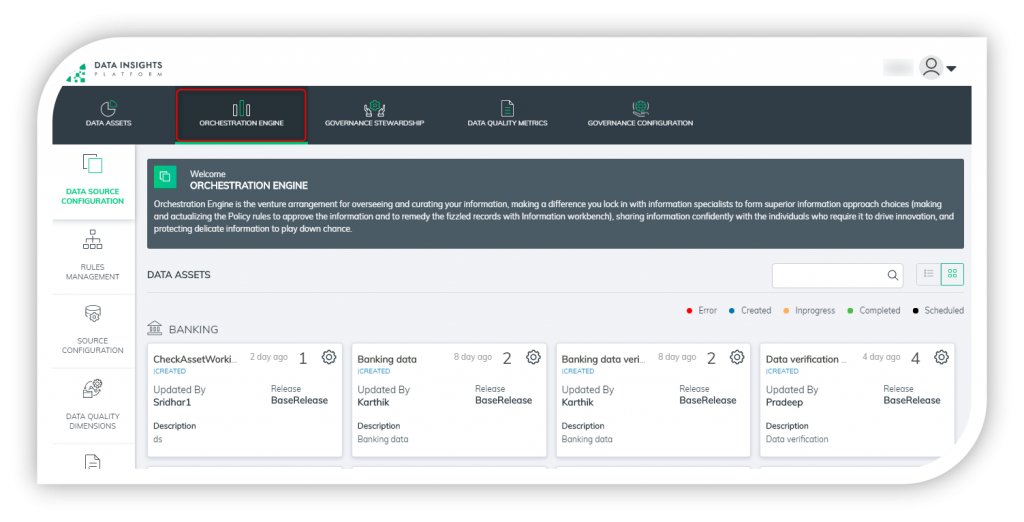 Orchestration Engine has four sub-modules. They are:
Data Source Configuration
Rules Management
Source Configuration
Data Quality Dimensions
Asset Log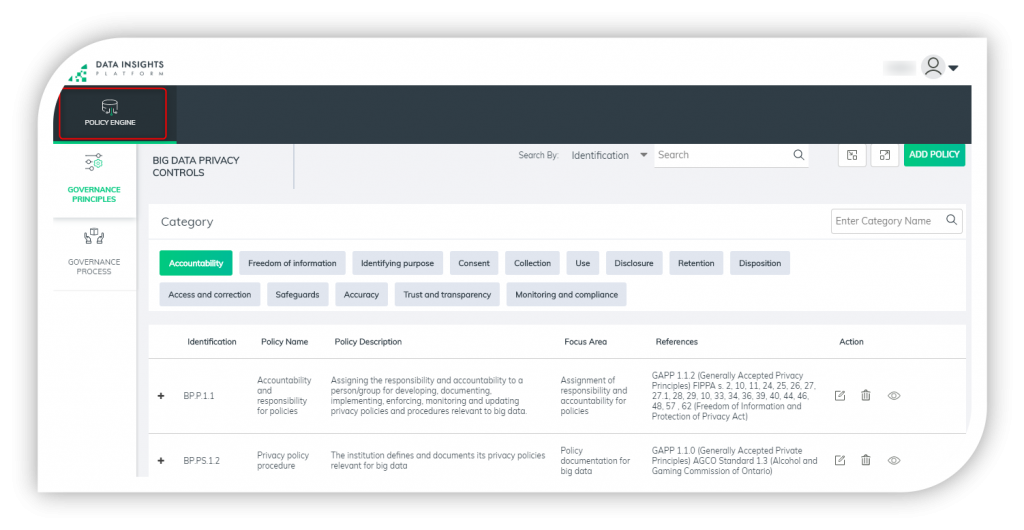 DIP Policy engine module enables organizations to implement the policies based on the initialization of sustainability discourse either by self or by some instruction of the regulatory institution.
DIP Administration module provides the role-based access rights to the users. It helps the administrator in managing the user, governance role, and organizational hierarchy configuration based on the permissions assigned to them and prevents unauthorized users from accessing the data irrespective of them.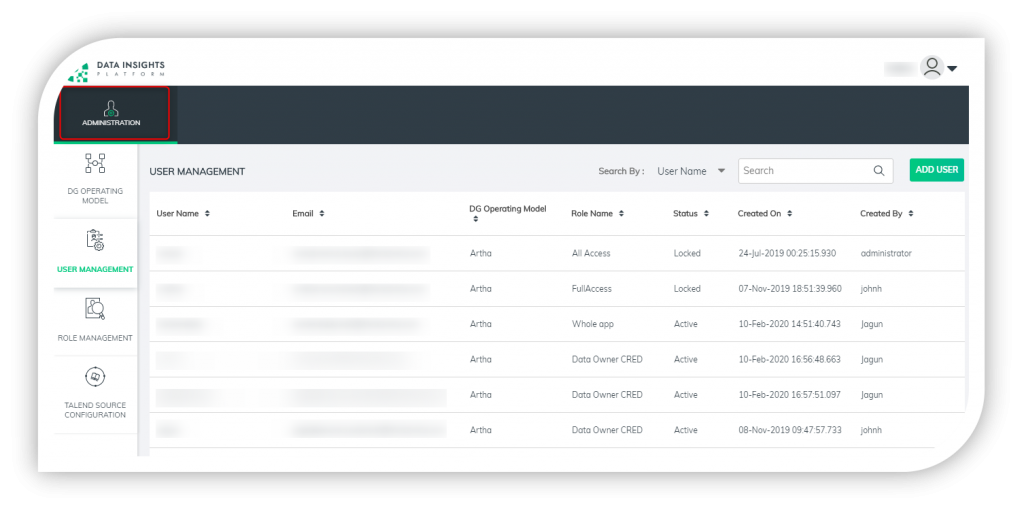 Analyze & Execute Decisions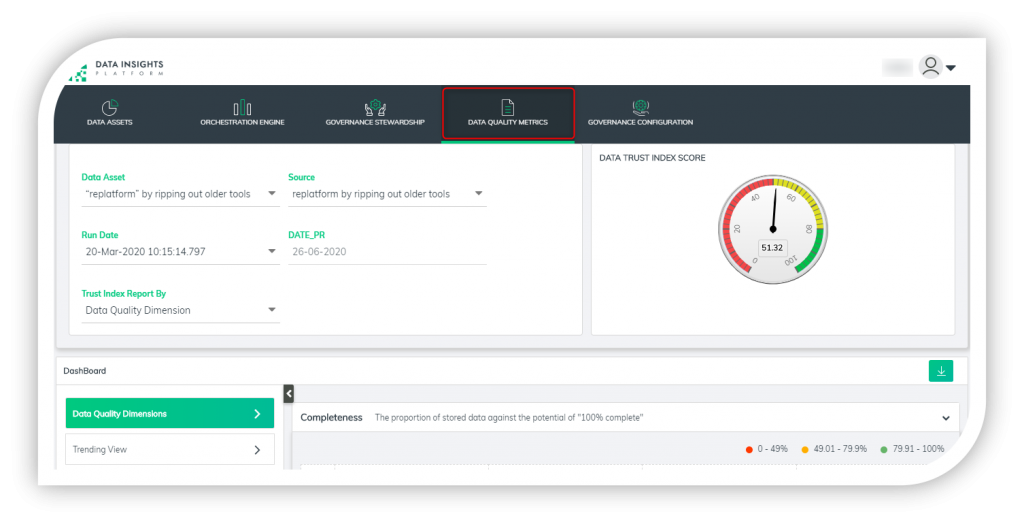 DIP Data Quality Metrics module displays the visual representation of the data trust index score of all the critical data elements categorized by the data quality dimensions for the selected data asset which helps the user to identify, summarize and analyze the information per each data asset. It also provides information about valid and invalid results.
The gauge chart displays the trust index score of the selected data asset indicating the reliability of the data. The dashboard generates reports based on the filter selected by the user.
SPEAK TO OUR EXPERTS TODAY
If you have any queries, we shall be happy to discuss our Data Insights Platform which will help you to improve your organization's governance process. 
DIP Features
Data Assets
Discover & Collaboration